We are a 501(c)(3) Nonprofit Federally Qualified Health Center providing healthcare services for people of all ages.
First Care Clinic accepts most major insurances, and services are provided on a sliding fee scale for those who qualify.
Our healthcare physicians work together in an integrated setting to provide quality, comprehensive care to our patients.
Our Mission.
The region's premier medical home dedicated to providing access to compassionate, quality care for all.
Our Vision.
All people have access to comprehensive, integrated healthcare services.
We want to help you reach your health goals.
By providing the support, tools, and access to resources necessary to follow your plan. We offer additional resources in-house to help.
Medicaid Eligibility Assistance

Marketplace Insurance

Medication Assistance Program

Diabetes Education

Chronic Care Management
What Our Patients Are Saying
First hand patient experiences. Everything is transparent and straightforward.
Staff are great and knowledgeable people.
From the phone call made to the scheduled appt to checking in, waiting to be called back to a room and seeing the provider, to being given information on what was wrong, check out was easy.
FCC Patient
Friendly, knowledgeable staff.
Easy to get appointments. Love the printout that is given at the end of the appointment regarding what was discussed, plan of care, next appointment, etc.
FCC Patient
Very great! Everyone was so nice.
I had a great visit with caring doctors, even as the last patient of the day. Thankful for their time
FCC Patient
I did not expect the hometown feeling.
My experience with First Care after moving from a small town to a larger town, I did not expect the hometown feeling, and was pleasantly surprised from the receptionist to the doctors and nurses, and even the nursing assistant.
FCC Patient
Really love my provider.
She is just amazing. Makes me feel heard and comfortable, makes me feel like my concerns and fears are valid. I can just tell she is an over all great person who is great at what she does and at ease with the work she provides. 10/10 recommend.
FCC Patient
National Health Service Corps
First Care Clinic is a National Health Service Corps Approved Site.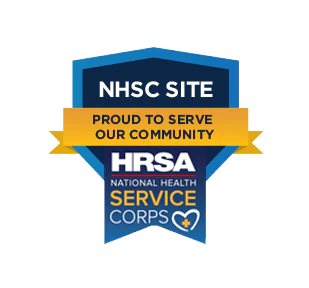 Patient Centered Medical Home
First Care Clinic is recognized as a Level 3 PCMH.
Federal Tort Claims Act (FTCA)
Under federal law relating to the operation of health centers, the Federal Tort Claims Act (FTCA) provides the exclusive remedy for damage from personal injury, including death, resulting from the performance of medical, surgical, dental or related functions within the scope of deemed employment by any board member, officer, employee, or independent contractor who the Department of Health and Human Services has deemed to be an employee of the Public Health Service.
First Care Clinic receives HHS funding and has Federal Public Health Service (PHS) deemed status with respect to certain health or health-related claims, including medical malpractice claims, for itself and its covered individuals.